Keter Salemo Garden Furniture Set Graphite 4 Seater
Discover the potential of arranging your garden, terrace or balcony and create your dream relaxation zone. The key to its creation is the choice of modern solutions, designed for full convenience of use.
The furniture offered by Curver corresponds to current design trends and is characterized by the highest quality of workmanship.
A modern and functional set of balcony furniture Salemo SET is a perfect complement to the surroundings of a house or apartment.
The set includes: a wide, two-person sofa and two deep, comfortable armchairs with a profiled backrest, armrests and soft cushions on the seats and a practical, low coffee table with an interesting and stable construction. An additional advantage of the set is the functionality of the table, which, in addition to the handy tabletop, offers a spacious storage space for the necessary accessories.
The set is distinguished by precision of workmanship, elegant style and interesting design – eye-catching rattan weave, horizontal panels imitating wooden boards on the table top and pillows in a lighter shade will add chic to any space.
Modern design, elegance and very high comfort of use are the main features characterizing the Salemo furniture set.
The furniture is characterized by an original surface structure imitating a natural rattan weave.
The set is ideal for arranging gardens, terraces and interior furnishings.
Furniture in the currently fashionable style is very easy to assemble and easy to keep clean. Resistant to adverse weather conditions and UV rays.
Product dimensions:
Armchairs:width: 74cm, depth: 67cm, height with backrest: 76cm,
Sofa dimensions:width: 133 cm, depth: 67cm, height with backrest: 76cm,
Coffee table with storage function:width: 76 cm, width 56cm, height: 42cm,
Need more information?
Ask for the exact delivery time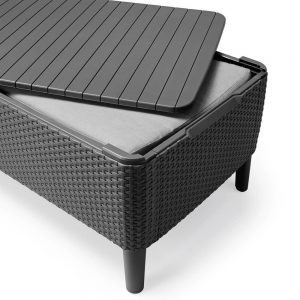 Only logged in customers who have purchased this product may leave a review.